Barbara Jackman, B.A. Hons. (Windsor) 1972; LL.B. (Toronto) 1976 was called to the bar of Ontario in 1978. From then on, the primary focus of her practice has been immigration and refugee law, and related constitutional litigation.  Ms. Jackman has been an adjunct faculty member of several Ontario law schools (Queen's University 1988-1990; 1991-2001, 2005-2006; Osgoode Hall, York University 1988-1989; The University of Toronto 1994-1998, 2006-2007). She has also been a very active contributor to Continuing Legal Education programs for the Canadian Bar Association, the Law Society of Upper Canada, and academic and community conferences on topics such as the practice of immigration and refugee law, racial profiling, the role and practices of the Federal Court and Supreme Court of Canada, issues related to migration and Canadian national security, domestic and international human rights norms and practices, and advocacy before International Human Rights Tribunals.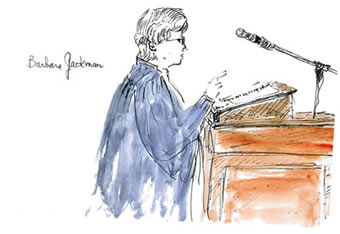 Ms. Jackman has also been active in a number of professional and human rights organizations, including the Immigration Section of the Canadian Bar Association (Section Executive 1984-1990; Section Chair 1987-1989), the Canadian Civil Liberties Association (Director 1989-1996) and Defence for Children International, (Director 1997-2000). She has been honoured a number of times for her work in defending the human rights of non-citizens, including receiving the Ted Johnson Award, Presbyterian Church in Canada (1989); The Vince Kelly Award, Centre for Refugee Studies, York University (1993); The Arab Canadian National Award, Canadian Arab Federation (1995); Federation of Associations of Canadian Tamils (1998); Award of Justice, Ontario Advocates Society (2000); Award of Excellence, Sikh Centennial Foundation (2002); Law Society Medal (2003) and she has received Honourary Doctorates from the Law Society of Upper Canada in 2007, and from the University of Windsor Law School in 2010.
Ms. Jackman has acted on behalf of clients or interveners in a number of the leading Charter of Rights cases concerning immigration and refugee matters before the Supreme Court of Canada. In recent years, she has been heavily involved in proceedings relating to national security matters, including security certificates and the Arar and Iacobucci Commissions of Inquiry.